One-Punch Man
First Air Date: 2015-10-04
Register Free Account
One-Punch Man
Saitama is a hero who only became a hero for fun. After three years of "special" training, though, he's become so strong that he's practically ...
You May Like Also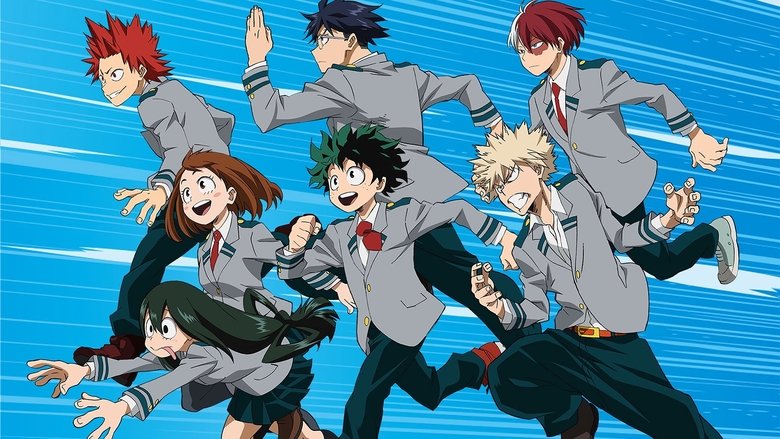 My Hero Academia
My Hero Academia
People are not born equal, a realization that 4-year-old Midoriya Izuku faced when bullied by his classmates who had unique special powers. Izuku was one of the rare cases where he was born with absolutely no unique powers. This did not stop Izuku from pursuing his dream, a dream of becoming a great hero like the legendary All-Might. To become the great hero he hopelessly wants to become, he now will join the ranks of one of the highest rated "Hero Academies" in the country: UA. With the help of his idol All-Might, will he be able to claim the ranks and become a true hero?
Tokyo Ghoul
Tokyo Ghoul
Ken Kaneki is a bookworm college student who meets a girl names Rize at a cafe he frequents. They're the same age and have the same interests, so they quickly become close. Little does Kaneki know that Rize is a ghoul - a kind of monster that lives by hunting and devouring human flesh. When part of her special organ - "the red child" - is transplanted into Kaneki, he becomes a ghoul himself, trapped in a warped world where humans are not the top of the food chain.
Berserk
Berserk
Spurred by the flame raging in his heart, the Black Swordsman Guts continues his seemingly endless quest for revenge. Standing in his path are heinous outlaws, delusional evil spirits, and a devout child of god. Even as it chips away at his life, Guts continues to fight his enemies, who wield repulsive and inhumane power, with nary but his body and sword—his strength as a human.
Dagashi Kashi
Dagashi Kashi
Shikada Kokonotsu's father owns a rural sweets shop, and his plan is for Kokonotsu to take it over one day. However, Kokonotsu wants to be a manga author instead! One day in summer, the cute but weird girl Shidare Hotaru, from the famous sweets company, comes to pay a visit. Apparently, Kokonotsu's father is famous and she wants him to join her family's company. However, he will only agree if she can convince Kokonotsu to take over the family business!
Gintama
Gintama
The Amanto, aliens from outer space, have invaded Earth and taken over feudal Japan. As a result, a prohibition on swords has been established, and the samurai of Japan are treated with disregard as a consequence. However one man, Gintoki Sakata, still possesses the heart of the samurai, although from his love of sweets and work as a yorozuya, one might not expect it. Accompanying him in his jack-of-all-trades line of work are Shinpachi Shimura, a boy with glasses and a strong heart, Kagura with her umbrella and seemingly bottomless stomach, as well as Sadaharu, their oversized pet dog. Of course, these odd jobs are not always simple, as they frequently have run-ins with the police, ragtag rebels, and assassins, oftentimes leading to humorous but unfortunate consequences.
Deadman Wonderland
Deadman Wonderland
Ganta is the only survivor after a mysterious man in red slaughters a classroom full of teenagers. He's framed for the carnage, sentenced to die, and locked away in the most twisted prison ever built: Deadman Wonderland. And then it gets worse.
Soul Eater
Soul Eater
Set at the "Death Weapon Meister Academy", the series revolves around three teams, each consisting of a weapon meister and weapon that can transform into a humanoid. Trying to make the latter a "death scythe" and thus fit for use by the academy's headmaster Shinigami, the personification of death, they must collect the souls of 99 evil humans and one witch, in that order; otherwise, they will have to start all over again.
Bleach
Bleach
For as long as he can remember, Ichigo Kurosaki has been able to see ghosts. But when he meets Rukia, a Soul Reaper who battles evil spirits known as Hollows, he finds his life is changed forever. Now, with a newfound wealth of spiritual energy, Ichigo discovers his true calling: to protect the living and the dead from evil.